Energy Performance Certificates
An Energy Performance Certificate (EPC) is required for every commercial building when it is constructed, sold or let. This certificate gives information about the energy efficiency of the building to owners, prospective buyers and tenants.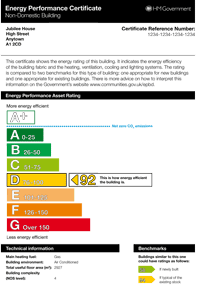 An Energy Performance Certificate (EPC) sets out the energy efficiency grade of a commercial building. Energy Performance Certificates (EPCs) are required when a commercial building over 50m2 is built, sold or rented. There are two grades of buildings under the EPC requirements which relate to the complexity of the building being assessed and will affect the type of EPC assessor you will need. 

EPCs are produced using standard methods and assumptions about energy use to enable the energy efficiency of buildings of the same type to be compared.  They are valid for ten years.
What an Energy Performance Certificate contains: 
The EPC has two parts - a graphic rating and a recommendations report.

The rating is calculated on the performance of the building and its building services (such as heating, lighting, air conditioning), rather than the appliances within it. This is known as an asset rating - that is, how energy efficient the building has been designed and modified. The certificate also gives an indicator of the potential rating of the building if all the cost-effective measures suggested in the recommendations are carried out. A building's rating will vary depending on the age, location, size and condition of the building, which are taken into account.
Information an EPC Assessor may need to produce an EPC:
The size of the building and the different activity areas within it.
Insulation levels in the building.
The systems providing heat to your building.
How fresh air moved around the building.
What keeps the building cool.
How hot water is provided to bathrooms and kitchens.
Building management systems or controls.
Electricity feed for the building.
Lighting systems for the building.
Presence of onsite energy generation.
How the building is used and by whom.
The more complete the information on these areas the more accurate the rating and recommendations are likely to be.
Our Low Carbon Energy Assessors (LCEAs) have undertaken additional training so that, not only are they able to provide you with an energy performance certificate, they can also provide tailored advice to help you cut the energy costs and carbon emissions in your buildings.
Energy Performance Certificates must be produced by a certified EPC energy assessor. To find a CIBSE Certification certified EPC energy assessor in your area search our Register of Low Carbon Energy Assessors.
Useful Energy Performance Certificate documents 
Further information on EPCs can be found in the downloadable documents below:

A Guide to Energy Performance Certificates for the Construction, Sale and Let of Non-dwellings
Local Weights and Measures Guidance for Energy Certificates and Air Conditioning Inspections for Buildings 
Example Commercial EPC